We get asked a lot of questions about Picket Fence Gals. Hopefully, this list of Frequently Asked Questions will help clear up any confusion about our sale. If not you can always drop us a line on our contact us page!

Q: Are you open all year?
A: Yes, we are! Rain, Shine, or Snow!  We are a year-round occasional sale so even though we're only open 5 days a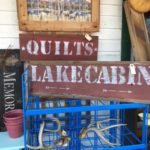 month and aren't outside in the winter, we are still open! Get signed up for our newsletter or join our Facebook page so you can be notified of our next sale.
Q: What forms of payment do you accept?
A: We accept cash, Visa, Mastercard & Discover. We are no longer accepting checks.
Q: Why can't I buy this item in the yard now?
A: We spend several days before the sale bringing inventory for the yard setup (and maybe to tease you a bit…). But
we want everyone to have the same chance to be able to buy it, which is why we don't have presales before 3 pm on the Wednesday of our sales.
Q: The item I want isn't here today, but it was here yesterday. Where is it?
A: Because we are a very fast-paced sale, it is often better to buy it now so you don't lose out on that special item. We do, however, restock daily.
Q: Can you hold this item for me?
A: Except for Wednesdays, and Saturdays after 12, we generally 'hold' an item for you for 2 hours.
Q: Will this item be for sale next month?
A: It might be and it might not be. Vendors may have a particular item in their booth for 2 months but most of our vendors like to change their booth every month to give our shoppers a fresh experience. Of course, there's always the possibility that if you see it this morning I will be sold by afternoon.
Q: I can't take that furniture today. When can I pick it up?
A: We appreciate you picking up your furniture as soon as possible, but no later than Sunday. And bring plenty of muscle with you as well!
Q: We get a discount on Sundays?
A: Yes, you do! Items will be discounted 10% unless they are already sale priced or are marked 'firm'.
Q. Can I make an offer on an item?
A. No. There are over 30 vendors at Picket Fence Gals so it's impossible for us to be able to negotiate prices with you. We believe our prices are some of the most competitive in the Twin Cities so we think you'll be happy with the prices you find here.
Q. How can I become a Picket Fence Gals Vendor?
A. We occasionally do have openings for new vendors and would love to see your work. Please fill out this form and we will contact you.